Intelligence on the Network
I give up on the puzzles. I just want to turn the page upside down and read the answers.
- Evey, V for Vendetta
Let me introduce to you John dela Cruz, his wife Maria and Patrick Reyes. John lived and worked in California. His wife and son resided in the Philippines. John was an Overseas Filipino Worker. He worked as a Male Nurse in California but is a computer enthusiast. He not only knows how to develop web applications but is familiar in building a web server. John dela Cruz had long since dreamt of becoming an entrepreneur and with a growing son, decides, his family would need more income.
So John, in his spare time slaved away, writing a store application that would let customers in the Philippines buy and sell clothes from sports wear to formal wear to underwear. He knows how to build a web server and knows the cost of outsourcing it to a hosting provider. John being cheap, thought, "Well maybe, I'll do my own hosting". He computed the cost of high speed internet to his house in California, the cost of running a computer Twenty-four-seven and the time it would take to maintain it. In his due diligence he noted that, "Yes, he could run this on his own". At least while the business was young.
So John goes out and buys a cheap computer from the local Best Buy. Being a geek, he naturally is familiar with how to install and configure open source software: Linux, Apache, MySql, and PHP (LAMP). After which he gets his local ISP to give him a static Internet Address. John registers a domain name and points it to his brand new server. Maria in the Philippines already has a computer and is running off a broadband connection and which comfortably rests in their family living room.
After testing his software, John registers the business with California.
Now the store's about to open. John a month previous had already bought his inventory. It was shipped to Manila by sea and his wife had already received his freight and paid for the appropriate taxes and duties. Days later, John opens the site to the general public. The store after a brief outage, is running smoothly.
Through the marvel of the Internet, Maria is log on to the online store in California. Once a customer orders, the software will tell Maria that, yes, you may now ship the product because it was already paid for.
Patrick Reyes is a lawyer. Now he wanted to buy his new girlfriend something nice. A friend of a friend told him that hey, there is a new site that just opened that would sell cheap clothes from America but half the local price. Curious, Patrick goes online and sure enough finds John and Maria's PinoyRTW.com and while browsing the catalog found it drastically cheaper than buying the same thing from Shoemart. Oh, wow, Patrick thought, the site also gives free shipping and free wrapping/packaging. It was too good to be true, Patrick thought.
Boom!
Maria receives confirmation that it was time to ship a cocktail dress to Patrick Reyes, which was supposed to be neatly wrapped in a red box. The package was supposed to be delivered at Enterprise Center in Makati. Maria after wrapping the package, takes the public FX and the MRT and an hour later had already hand delivered the package. Thirty minutes later, Patrick's new girlfriend Jessica and a dazzling smile painted on her face.
Five years later, John and Maria's business had evolved and they were now shipping to every part of the world and most of their clientele is Filipino.
The broad and sweeping definition of the NTC clearly includes John dela Cruz as Content Provider and Applications Developer.
Again, let us briefly return to the NTC's definition:
"Contents, Information, Applications and/or Electronic Games Providers, Contents Developers, Information Sources, Applications Developers, and Electronic Games Developers are required to have commercial presence in the country and shall secure Certificate of Registration (COR) from the Commission."
John and Maria's business undoubtedly has a commercial presence in Philippines. From the get go, it is a multinational corporation. And as per this proposed Circular, not only would John and Maria be required to register it with the NTC, not counting of course other local license fees that they ought to apply for it doesn't make it easy for a Filipino to start a business.
According to the Electronics Commerce Act, Section 3, subparagraph d:
"Neutral Tax Treatment. Transactions conducted using electronic commerce should receive neutral tax treatment in comparison to transactions using non-electronic means and taxation of electronic commerce shall be administered in the least burdensome manner."
Atty. Jesus M. Disini, Jr., wrote an annotation in the book, The Electronic Commerce Act:
"Taxation of Electronic Commerce. There are to date, no explicit Philippine tax laws on electronic commerce and it appears that no law will be passed on this subject matter in the near future. However, it is undeniable that many of the activities involving electronic commerce are subject to existing tax laws. For example, retail goods over the Net would attract value-added taxes (VAT). Additionally all electronic commerce entities located in the Philippines would be subject to some form of income taxation, indirect taxes, and even local government taxation. The goal of the policy is to encourage the taxing authorities to treat electronic commerce entities no different from the brick and mortar counterparts. Again, this is viewed as promoting the growth of electronic commerce."
As a multinational business, John and Maria's enterprise exists on top of the infrastructure and rightfully this operation falls under the Department of Trade and Industry. What tariffs and taxes, duties, transactions and licenses they need to procure to do business in the Philippines and to operate in California, clearly is a business matter that has nothing to do with the network and the Electronic Commerce Act rightly recognizes it and places the governance of it with the Department of Trade and Industry.
II. The World Class Chef
Want to be an Internet superstar? Kara Chen was a gorgeous Chinese-Filipina. The Chens weren't rich but of middle income. More than her drop dead gorgeous looks, at the age of 15, she was the family cook. She could make the most delicious dim-sum to rival dim-sum from Hong Kong. By the time she was 18, she was such a cooking prodigy that she decided to open up a video blog.
Using the family home video cam, with the aid of her dorky little brother Carlos had setup a makeshift studio at their family's little kitchen. As a videographer, it was Carlos' job to edit his sister's show. As for the website, the Chen siblings turned to Carlos' best friend Zac, who having a crush on Kara provided his services for free.
Neither Zac or the Chens could afford to build their own Electronic Commerce site, so rather than build that infrastructure, they chose to use iTunes as the platform.
Kara's Kitchen became an Internet success.
Weekly, numbers began climbing from a handful to a thousand. They didn't want to price too much nor too little, they settled on US$1.99 for the 5 to 10 minute show was more than enough to pay for the cost of uploading content to the internet, having revenue sharing with Apple and making money for themselves.
Kara, Carlos and Zac could now afford to go to university on their own.
This video could be downloaded on any computer and viewed on an iPod or iPhone and yet viewed from the perspective of the NTC, clearly they fall under the definition of content provider and content developer.
The idea that Kara's Kitchen couldn't be taxed or "regulated" is a myth. iTunes clearly has a Philippines store. User access is granted and government entities may be able to tax Kara's Kitchen. The Electronic Commerce Act has already laid down that it can be subject to the same taxation as brick and mortar business is. Fundamentally, there is nothing wrong with that.
Kara's Kitchen may not be regulated like a ratings agency regulates what gets shown on television. To subject a show like Kara's Kitchen to online licensing is a mistake. It would simply force the content owners to move the show to a part of the web where in they need not be subjected to Philippine law. Content owners and Content providers will simply circumvent a rule or law that tramples on their right to free speech and free expression. It would be different of course if the store wherein Kara's Kitchen exists on doesn't have a Philippine presence. The lawyers can nitpick on it. That doesn't solve the problem, does it?
The danger that the NTC proposal raises is the trampling of those inalienable rights. What this therefore calls upon is a formal codification of Internet rights.
III. Father Peter Ochoa and the Word of God
The Internet has been a playground of Liberalism. How can it not when the very DNA of the network is one about openness and sharing? Every porn under the sun has a place on the World Wide Web. Just as equally, even faith and belief of all sorts can use the Internet. So let me tell the story of Filipino Reverend Father Peter Ochoa. Father Pete was a natural born evangelist and he used this talent for the Roman Catholic Church. When he spoke, you'd listen and make sense. In the old days, that would mean Fr. Pete would have had a radio program. One day, Fr. Pete got a chance to listen to Leo Laporte of TWiT.tv.
Leo Laporte is the founder of the TWiT network which is totally based on the Internet. He sends out a podcast a day on various topics from technology panel discussion to science to law to family. Being a podcast, the listener downloads it and listens to it anytime he would like. It is like having a radio program that you can choose to listen to anytime you want.
Suddenly, Fr. Ochoa had an epiphany. OK, it was something that came to him and he said it was a blessing from the Holy Spirit.
So he started a religious podcast and the faithful whether Filipino or American, Japanese or Chinese, European or Middle-Eastern or African started to listen.
Sure it wasn't a huge following. It started with a 1,000 who would download his podcast. For every person who downloaded his podcast, they would "donate" at least a dollar to Fr. Peter's paypal account. He would receive proposals to have advertising on his show, which he accepted. Mostly it was from people who sold religious items like books and candles and stuff like that.
Suddenly Fr. Peter found himself earning thousands of dollars a month.
Fr. Peter would record his podcast in the Philippines. He is both provider and content creator. His content is hosted in an American server. His viewership is global. Did I mention that a podcast could be downloaded to a phone just like any ringtone or music? Does this mean he would have to register with the National Telecommunications Commission? Isn't religion not taxable under Philippine Law?
IV. Application and Game Development - Sudoku for Android
Megan San Miguel was very good in Math and she was very good with programming. Her rich uncle from America gave her a hand me down Laptop and a hand me down cellphone. Luckily it was a Google Android-based phone. Being good with math and programming, Megan wanted a Sudoku for her phone. So she wrote one. Believing in the power of open source, she even licensed the game and code under the GNU Public License.
Then she thought of putting up the software for sale. So asking seed money from her rich uncle in America, they registered a domain name, had the site hosted on a server in New Zealand. Hey, pretty soon she had a steady income and went on to write more software.
Megan also setup shop with the Android Market.
If the NTC interpretation was in place, she'd be doing the work illegally, wouldn't she?
V. Byte and Kagat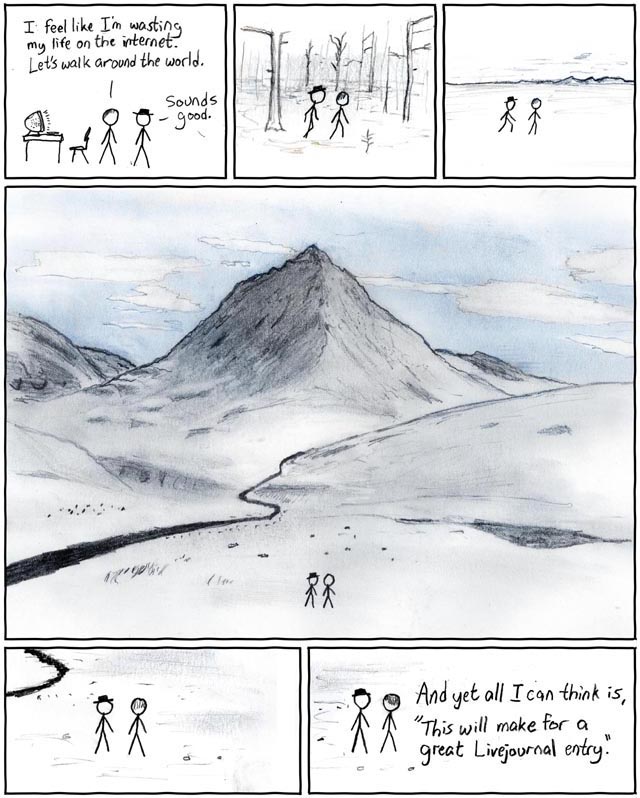 Ryan Ramos was a huge fan of xkcd, a webcomic of romance, sarcasm, math and language. So when Ryan wanted to enter the genre of blogging, he didn't want to be the quintessential political blogger. Instead of writing prose, he chose to draw satirical comics that reflect the life and times of the Filipino. Think Pugad Baboy but on a blog and instead of polgas, Byte and Kagat were cats.
(Permanent link to image to your left is here.)
His comics through technology called "really simple syndication" or RSS could easily be downloaded on a mobile phone. Which was quite all right with Cathy Ermita who being into politics and satire and humor would be able to download the new comic religiously.
Ryan is both an information source because of his commentary. He is also a content developer and content provider and a New Media practitioner. Part of his website is a page where you can order T-shirts, mugs, and other similar items that allow people to send him money to keep making political satirical comics as his way of blogging.
How again are these scenarios different from ringtones, music, video clips associated with Mobile Phones and Telecommunication Companies?